Education Program
Paloma Cordón
Responsible for the FIRE!! 2011 Educational Program
In 1928, Virginia Woolf said that Judith, a hypothetical Shakespeare's sister, having both the same intellectual capacity and talents as her brother, could have never got as far as William. As explained in 1971 by Linda Nochlin.
Since the Fire!! Festival burnt a closet in the centre of Barcelona, it turned into a cinema meeting without labels, which also burnt that same Saint John's night next to the powerful Joan Miró's statue. This year we see in the poster how a woman bites an apple and invites us to do the same. We invite you to do it through our educational program, which grows year by year and reaches entity and importance, thanks to French Institute, Fnac, Casa Asia and the Bande à Part cinema school. Nowadays, it is a time to demonstrate not only in the streets but also inside ourselves, we call everything into question, we search for coherence and values that improve ours and other people's life.
This year's didactic encounters are opportunities to look for clues about the role of women in the art and culture fields, opportunities to admire and share the Amnesty International retrospective in panoramic code, which is still tumbling down archaic nonsense structures. We will enjoy movies and documentaries while woman archetypes come to our minds and we walk together with Salomé, Penélope or Safo to see the delicious short film with a title that evokes a universal theme "Tengo ganas de estar enamorada" (I want to be in love) by Chus Gutiérrez; we will listen to Paula Navarro and motivations for her "Invisible Burka", to the well-known Carmen Alborch or to Marta Pérez Sierra, a writer that treats the female nature in poems in many of her books. We will see short films sponsored by "Stop Sida" or documentaries such as "The Pink Wall" about the gay people situation during the dictatorship and the beginning of the Spanish democracy. We will also enjoy the "The lonely journey of Chantal Akerman" with a debate with María José García for the Bande à Part school, among many other activities that you will see in the program. You are all invited.

* * *
Monday, June 27th
Short to change the world
Short films screening
7 p.m.
FNAC TRIANGLE

BARCELONA PRIDE 2011 presents the first round winner of its MIRA'M short films contest, and the winner of the jury's special mention. Two shorts, two looks.
Stop AIDS presents the winning videos of the two editions of "home video contest to promote safer sex among men." This contest is part of the prevention program for HIV / STIs for MSM Internet users of Stop AIDS. "Epicentro" by Gordon and Tiago Fernando Leao, "Dímelo al oído" by Juan Pedro Diotaiuti and "Ponte el condón, maricón" by Juan José González Blanco.
Film director Chus Gutiérrez from Madrid presents her new short film "Tengo ganas de estar enamorada".
* * *
Tuesday, June 28th
Documentary film
7 p.m.
FNAC TRIANGLE
Press and public presentation in Barcelona of the documentary The Pink Wall directed by Enrique del Pozo on the situation of the gay community of the Spanish dictatorship to democracy.
Screening of the documentary with the director and activist Carla Antonelli.
* * *
Wednesday, June 29th
7 p.m.
FNAC TRIANGLE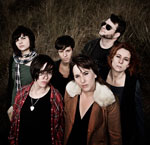 Jordi Baltà, president of Amnesty International Cataluña, in the context of the 50th anniversary of his organization, will speak about the situation of lesbian, gay, bisexual and transgender persons all over the world. He will show how Amnesty International fights for defending from injustices and protecting homosexual rights, violated in more than 80 countries, 7 of them with discriminatory laws including death penalty, and how AI stimulates actions to improve the position of specific people and to help defenders.
Acoustic show by Los seis días
To support today's cause, and related with the special emphasis that Mostra FIRE!! dedicates to the woman's role in this year's edition, the band Los seis días from Barcelona, will close down this conference offering a small taste of their new album "Jueves", where through songs made from pure feelings, they defend femininity in pop and vindicate the woman's space in a music scenario lacking similar offers.
* * *
Thursday, June 30th
Round table
7 p.m.
FNAC TRIANGLE
ART, CREATIVITY AND FEMININITY
Carmen Alborch, senator and author, Marta Pérez Sierra, author and poet, Pàmias Prize 2010 for her book "Dones d'Heure, Paula Navarro author of "The Burka invisible" that soon will go on sale and Paloma Cordón, media specialist and coordinator of the educational sessions of Fire!!
Why there has been no great women artists? Artistic anonymity that the woman is subjected together with the secrecy and hierarchy, make it an obstacle course. Women, ideology and art in an open table and without labels, which cover topics from the role of women in culture to the creative power.
* * *

Monday, July 4th
Conference
7 p.m. and 8.30 p.m.
FRENCH INSTITUTE
"The solitary journey of Chantal Akerman". Conference by María José García, from the Bande à Part school, at 7 pm., and screening of the documentary ! Women Art Revolution at 8.30 p.m. in the same Institute.